World Hickory Open Championship 2023
We are delighted to advise you of the Calendar of events that will grace the World Hickory Golf Championship in 2023. The schedule is as follows;
Monday 9th October – Archie Baird Trophy to be played for over the Dundonald Links Golf Course

Tuesday 10th, Wednesday 11th and Thursday 12th October – the World Hickory Open field will be split into 3 groups with each group playing over Prestwick, Western Gailes and Kilmarnock Barassie, 3 of Ayrshires finest links courses over the 3 days
Registration and welcome reception
8th October – Lochgreen Hotel
Registration and a Welcome Reception will take place in the Lochgreen Hotel on Sunday 8th October. Registration will be from 12 noon onwards and the Welcome Reception will commence at 4.00pm including welcome drink and canapes
Scottish Heritage Night
(Tuesday 10th October – Dundonald Links)
A Scottish Heritage Night will be held on Tuesday 10th October at 7.00 pm in the Dundonald Links Clubhouse and will include music entertainment (with a difference), dinner and whisky tasting.
Gala Prize Giving Dinner
Thursday 12th October – Lochgreen Hotel
Tha Gala Prize Giving Dinner will take be held on Thursday 12th October in Lochgreen Hotel at 8.00pm.
Prestwick Golf Club
"Prestwick Golf Club was formed in 1851 and is one of the oldest Clubs in the world. It is the Birthplace of the Open Championship having founded the event in 1860 and the hosted it a further 23 times.
Visiting golfers are assured of a warm welcome to our traditional links which still embrace Old Tom Morris' original design features. A variety of tee options mean that all categories of golfer, whether using modern or hickory clubs, are able to enjoy their game at Prestwick.
Take the time too to soak in the history from the various displays in the Prestwick Clubhouse and to enjoy the Club's excellent cuisine. "
Western Gailes Golf Club
The reputation of Western Gailes as one of the game's finest and more exacting courses has spread worldwide as evidenced by its numerous visitors from around the world including golfing legends from this and the last century. The great Harry Vardon arrived at Western Gailes in June 1903 celebrating his fourth Open victory. In 1923 its attractions were being lauded by the then US Open Champion Gene Sarazen who played the course with three other outstanding professionals. Greats from the second half of the 20th century such as Gary Player, Tom Watson and Tony Jacklin have also visited, while from the modern game Luke Donald, Rory McIlroy and Bubba Watson have all tested their mettle over this classic links course.
Kilmarnock Barassie Golf Club
"Barassie Links or known as Kilmarnock (Barassie) Golf Club is to be found on the outskirts of Troon on the west coast of Scotland offering 27 wonderful links holes to club members and visitors alike throughout the year. We have a long history of hosting prestigious events – both professional and amateur – with our events dating back to the pre-war years with the Scottish Amateur all the way through to the recent 2021 Women's Amateur and the next few years will host Open Qualifying.
Winners at Barassie include some great names including Henry Cotton, Howard Clark and a very young Ronan Rafferty and have welcomed Rory McIlroy, Graeme McDowell and Ernie Els over the years. We are also proud to have 4 members who have represented GB & Ireland in 5 Walker Cups."
Dundonald Golf Links
Located at the very heart of Ayrshire's golf coast lies a modern links golf masterpiece. Effortlessly combining heritage and tradition with contemporary surroundings and luxurious finishing touches, Dundonald Links is fast becoming one of the most sought-after golf resorts in Scotland.
Designed by Kyle Phillips, Dundonald Links was home to the Aberdeen Asset Management Ladies Scottish Open in 2015, 2016 and 2017, The Aberdeen Asset Management Scottish Open in 2017 and the Trust Golf Women's Scottish Open in 2022, which will return in 2023. In addition,  Final Qualifying for The Open Championship will be held at Dundonald Links from 2023 until 2026.
Set on the west coast of Scotland, Dundonald Links is changing the face of stay and play links golf breaks.  With a stunning course and five-star facilities, come and stay, play, dine, and relax in the home of golf.
Lochgreen Hotel
One of Scotland's finest 4 star Hotels, Restaurants & Spas in Ayrshire's glorious Troon
A hotel like no other, Lochgreen is a haven on Ayrshire's magnificent coast. With immediate, uninterrupted views of Arran over the world-famous Royal Troon golf course, Lochgreen is a luxury hotel for all to fall in love with… whether you're here to play, explore or simply unwind.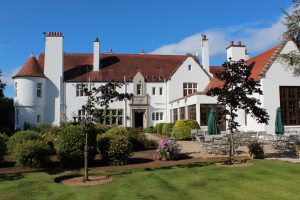 Marine Hotel
The gem of the Ayrshire coast, with views of Royal Troon's 18th hole, Marine Troon is more than a destination hotel — it's a testament to the adventurous spirit that lives inside every golfer. This is a hotel going through a transition having been purchased by Marine & Lawn with a wonderful outlook over Royal Troon Golf Course.
Piersland Hotel
Piersland House has been providing its renowned warm hospitality and delivering excellent customer service, both locally and internationally, for over 30 years.
This architectural masterpiece, the former home of the Johnnie Walker Scotch Whisky family, is now the scene for one of Ayrshire's truly outstanding guest experiences.  An engaging, timeless ambience of quiet sophistication, elegance and charm will strike you as soon as you enter.  Share an exceptional food and beverage experience with a large following of local discerning diners.
No country house experience is complete without an eclectic range of individual styled and contrasting guest accommodation, and with a superb choice of hotel, lodge and mews styles, Piersland has this in abundance.
Dundonald Links
All of the accommodation has been designed with golfers in mind.
Designed to reflect the heritage of Scottish golf whilst being totally contemporary and cool, you can enjoy a stay like no other. The accommodation offers "single room" lodges (more suitable for 1 person) and lodges with 2, 4 and 6 rooms suitable for couples, single people and groups who wish to be together and all within a few minutes walk of the clubhouse restaurant.
You can also enjoy dining in the Canny Crow restaurant. Situated on the first floor of the spectacular clubhouse, the Canny Crow restaurant is renowned for its mouth-watering dishes. With a menu designed by the head chef, golfers can enjoy fresh seasonal food in truly stunning surroundings.
Whatever accommodation you choose, the packages include use of all the facilities, including practice facilities, gym, steam rooms and sauna. Dundonald Links has been designed with the environment in mind
Prizes will be awarded for the following:
Archie Baird International Trophy – Team event
4 Person Team – 2 better ball scores to count, one from each pair.
Best Gross and Runner Up gross, Amateur Longest Drive, Amateur Nearest the Pin
World Hickory Open – Individual event
Professional (Scratch)
1st, 2nd and 3rd
Amateur Mens
Best Gross, Best Gross runner-up
Best Net, Best Net runner-up
Amateur Ladies
Best Gross, Best Gross runner-up
Best Net, Best Net runner-up
Best age categories
Best junior
Medical Certificates will be required by those who wish to use a Buggy
Handicap Certificates for National Handicaps will be required by all players